1. Chairman's Statement
Since the last Newsletter the SBAA arranged two outings that were well attended. At the end of April, we visited Belhaven Brewery which everyone enjoyed. More recently we visited the home of member Alastair Carmichael in Dalkeith to view his vast collection of brewing memorabilia.
Thank you, Belhaven, and thank you Alastair. Please read some detail of these visits that follow.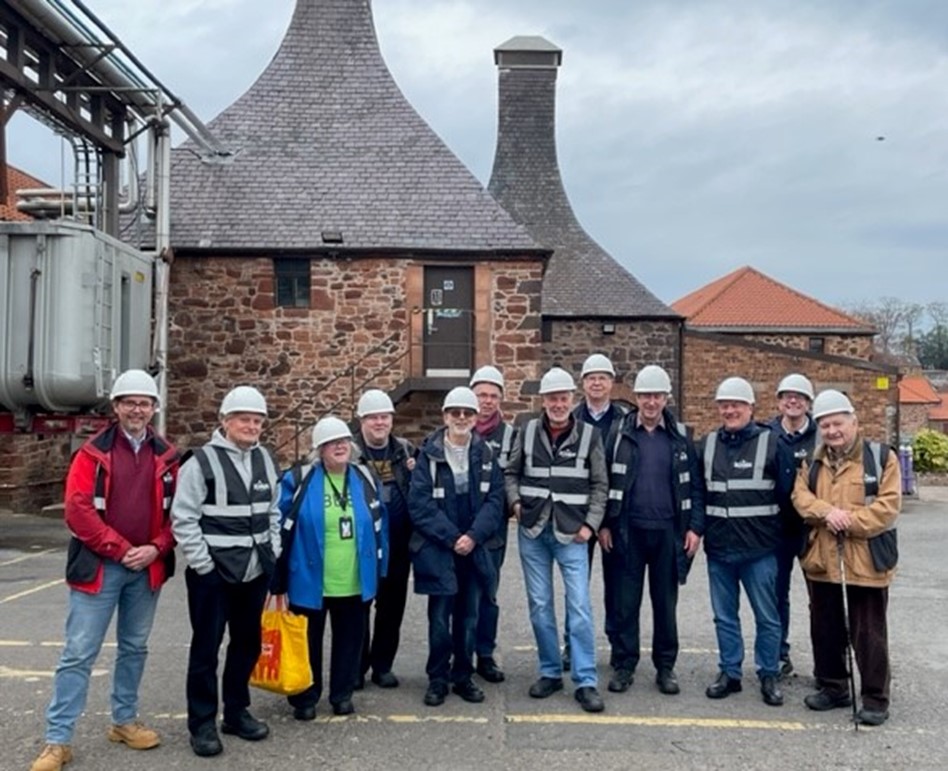 SBAA members attending the Belhaven brewery visit in April
Our next outing is planned for a further walking tour covering brewing heritage in Edinburgh in September, and this time Southside. In previous years we have covered Abbeyhill and the Canongate. Please read Last Runnings for further information.  
The SBAA are also indebted to Edd Mather's article featuring the brewing book of the West Brewery in Elgin, dated 1847. Edd examined the book in some detail at the archive at Glasgow University. This is just one example of the finds which have some interesting stories to tell of the Scottish Brewing industry.   
Please get in touch if anyone wishes to visit the archive to conduct research for the first time and I can assist you.
I visited Polesden Lacey near London at the end of May and the second time in doing so. This National Trust property was bought by the brewer William McEwan for his daughter and husband. This really is a magnificent home and treasures galore to view inside and with it a great story and all because of McEwan's success as a brewer and a businessman. Polesden Lacey is also featured in this year's Journal. 
A big thank you to everyone who have made contributions to this Newsletter, please keep it going. This year's Annual Journal contains seven articles, so stand by for a further bumper issue.
Robbie continues to edit the articles received. 
John Martin
  2. As the gate closes …………….
A records survey and rescue at Caledonian Brewery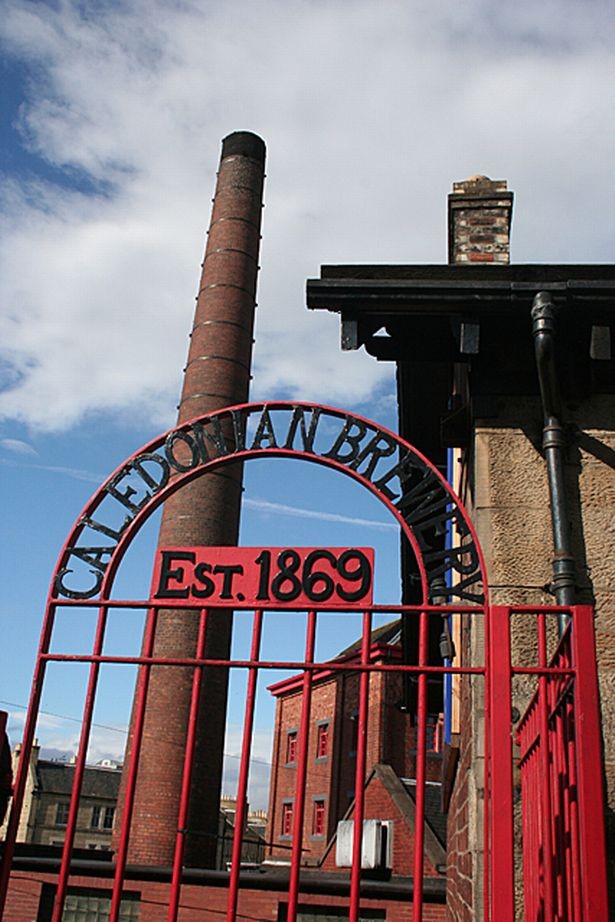 (Image Wikipedia Commons)
In May 2022, it was announced via the media that Heineken was proposing the closure of the historic Caledonian brewery located in Fountainpark, Edinburgh. The closure would mark the end of a site which had been home to brewing for over 150 years, and would see the last major brewery operating in Edinburgh come to a close, a historically significant moment for the city's industrial past.
The Business Archives Surveying Officer for Scotland regularly receives business news alerts, and monitors business closures, and situations where historical records may be at risk. This led to the Surveying Officer being able to proactively alert the University of Glasgow's Archives & Special Collections team (who hold earlier records for the brewery as part of the Scottish Business Archive) about the potential site closure. 
Due to the University of Glasgow's existing contacts with the brewery's owner, Heineken, it was relatively straightforward to liaise with the relevant members of staff for arranging physical access to the site. So, in November 2022, the Surveying Officer and an archivist from the University of Glasgow arrived on site to survey any existing historical records and artefacts. What we found was an exciting variety of objects, paintings, branded mirrors, bottles, ephemera, as well as photographs, and the odd business records of the brewery.
Items were stored across a number of buildings, and the survey took us to several corners of the site, which included a walk past the well-maintained copper stills. A number of larger framed paintings, posters, and an assortment of photographs were found in the old gatehouse keeper's cottage. Although now in a poor condition from the effects of dampness, ornate cornicing could still be seen. Therefore, it was important that Historic Environment Scotland also had access to carry out a building survey to capture the last days of the site, before permanent changes were to occur as a result of the sale. 
The University of Glasgow is only able to store documents and photographs relating to the brewery, so a solution had to be found for the larger objects. We were grateful that colleagues from Museums & Galleries Edinburgh were able to attend a second survey of the site along with colleagues from Historic Environment Scotland's Architecture and Industry team. This collaborative approach with colleagues representing three different organisations, ensured that not only were the brewery's records surveyed and identified for the archive, but that the building was photographed prior to any significant changes, and large objects such as artwork and items of machinery were transferred to Museums & Galleries Edinburgh. In addition to the records that made up the archive, eighty large objects were secured for the city's collections, along with four artworks, which has helped to provide more contemporary perspectives to Edinburgh's brewery heritage. 
Curator Gemma Henderson at Museums & Galleries Edinburgh reflected on the types of objects rescued and what this meant for the City of Edinburgh's historical collections:
"Caledonian Brewery played a huge role in the history of brewing in Edinburgh and we selected items which we feel reflect this. We collected material which highlights the complex history of the brewery (and brewing in Edinburgh in general) including material related to the various mergers and take-overs, including a celebratory bottle marking the management buy-out by staff, as well as wall plaques from the former Fountain Brewery and the opening of McEwan House. We also collected a range of bottles, posters, and certificates which reflect how beer drinking has changed over time, including marketing posters aimed at women and the brewery's move into organic produce and more recently into the craft ale movement."
A follow-up to the survey resulted in a request for help from the site owners, Heineken, to survey a number of additional historical paintings and photos held at their offices in South Gyle. An initial survey confirmed no business records were present, and so the Surveying Officer was grateful to once again be able to liaise with colleagues at Museum & Galleries Edinburgh who identified items that were also of interest to Reading Museum.  
Archive records including photographs, VHS tapes, CDs, and bottles that were surveyed and transferred to the University of Glasgow are now part of a cataloguing project that will see them added to the existing Caledonian brewery collection (archive reference GB248 CAL, Scottish Business Archive), so this case has had a positive outcome with so many historically significant items saved for posterity. 
Archive Cataloguer Laura Stevens can tell us more about how the cataloguing project is taking shape. 
The focus of my role concentrates on enhancing the discoverability of collections held within the Heineken Archives. Currently this focus has been on processing the accrual of material deposited to the Caledonian Brewery collection, deposited in December 2022. This collection is full of rich material capturing an institution which played a key role in Edinburgh's brewing heritage.  
The strength of the collection lies in telling the story of the formation of Caledonian Brewery in 1987, after the management buyout lead by Russell Sharp, master brewer at Vaux Breweries. Documents relating to this defining moment in the company's history include a detailed press release and letters of congratulations. The collection also provides a good snapshot of the brewery's physical heritage through its location on Slateford Road including Lorimer & Clark brass letter plates and artistic drawings of the brewery site.  Filling in the gaps, there is a wealth of material showcasing Caledonian Brewery's marketing and promotional activities, including posters, advertising scrapbooks and newspaper cuttings. The range of the brewery's beverages is well represented within the collection with a strong focus on Deuchars IPA.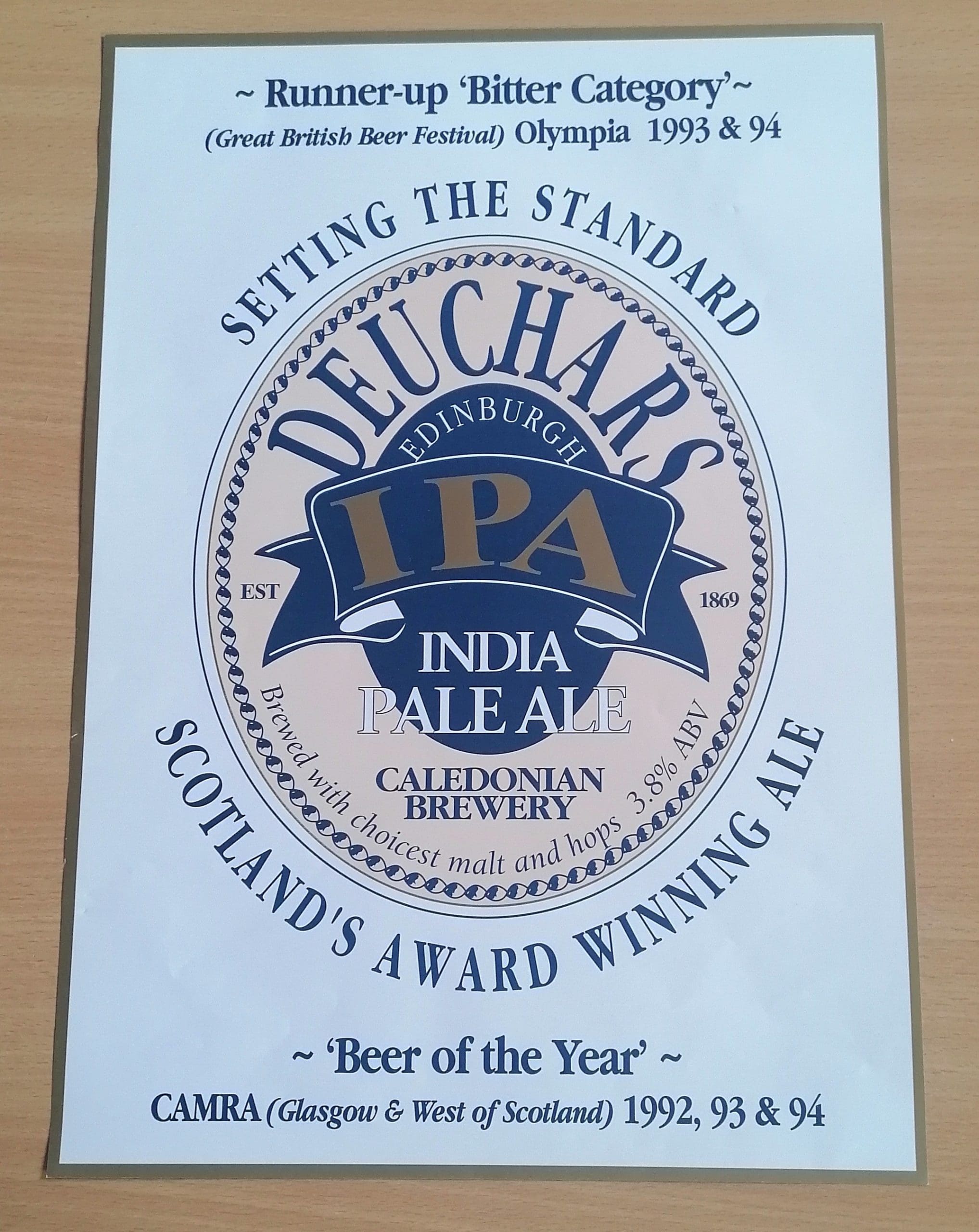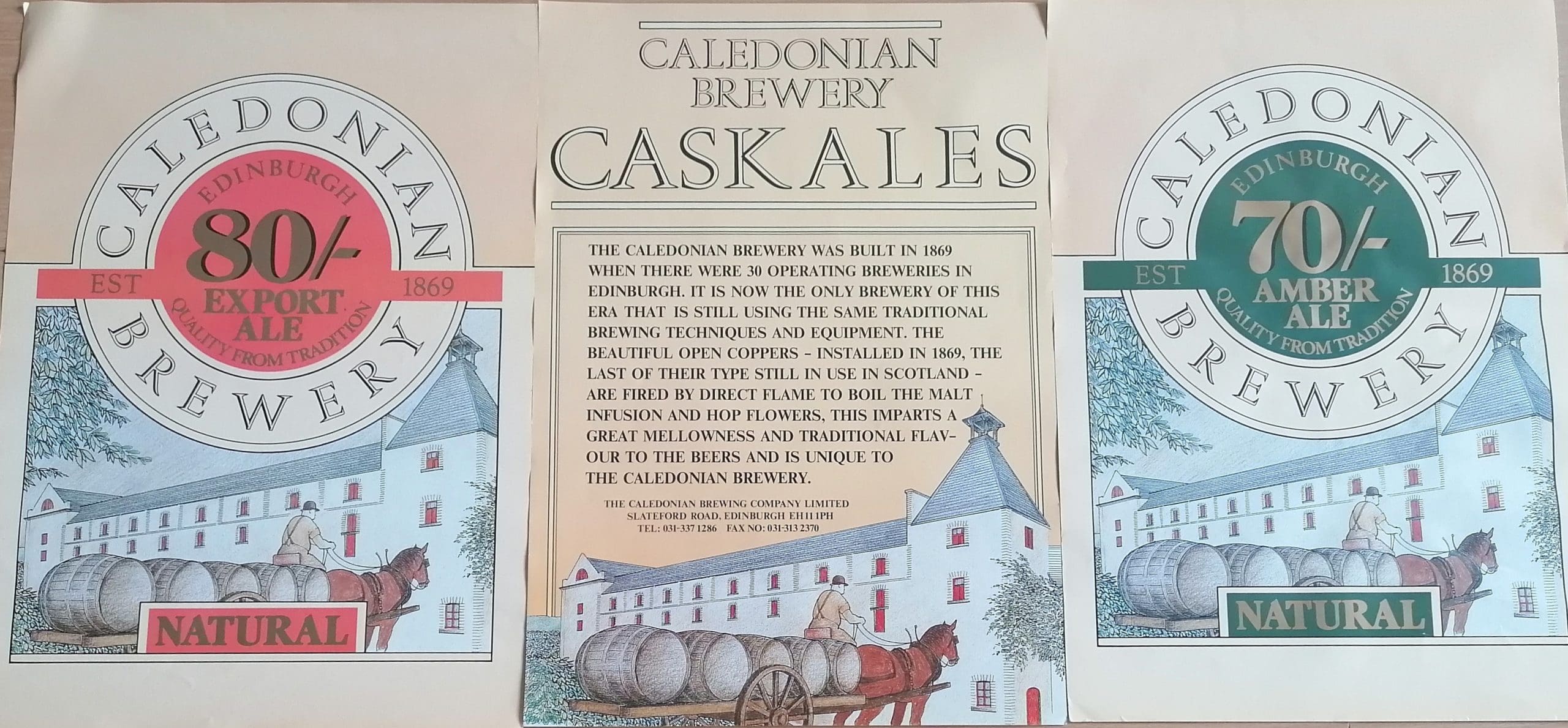 The collection can be fully discovered online via ASC's online catalogue and is available to researchers. Any queries, including arranging access to the collection, can be directed to library-asc@glasgow.ac.uk.  
Rachael Muir, Business Archives Surveying Officer for Scotland 
Laura Stevens, Archive Cataloguer
3. SBAA Belhaven Brewery Visit 
It was suggested at last year's AGM that we visit Belhaven Brewery in Dunbar and Susan Chisholm from Greene King said that she would make the necessary arrangements. Susan contacted Fiona Matheson, Brand Manager and within a few weeks the SBAA were booked for a visit at the end of April. 
Belhaven introduced a new visitors experience, and we were not disappointed. On arrival at the brewery by minibus, we were met by Tom our tour guide who welcomed us and explained the health and safety requirements. We started our tour with a visit to the museum where Tom covered Belhaven's history, a period of over 300 years. We were then split into two groups and led by Billy Mathers and Gary we visited the new keg line where its workings were explained, including its robot arms. Thereafter we visited the brewhouse where the brewing process was explained. Although I have worked in the brewing industry all my working life, I never tire of visiting breweries, as each one can be different, though the processes are the same. After that we adjourned to the Monk's Retreat to sample a selection of Belhaven beers. 
A great day out and well worth a visit for those who were unable to attend. Many thanks to Susan and Fiona for making the arrangements and to Tom, Billy and Gary who looked after us and explained everything very well.
John Martin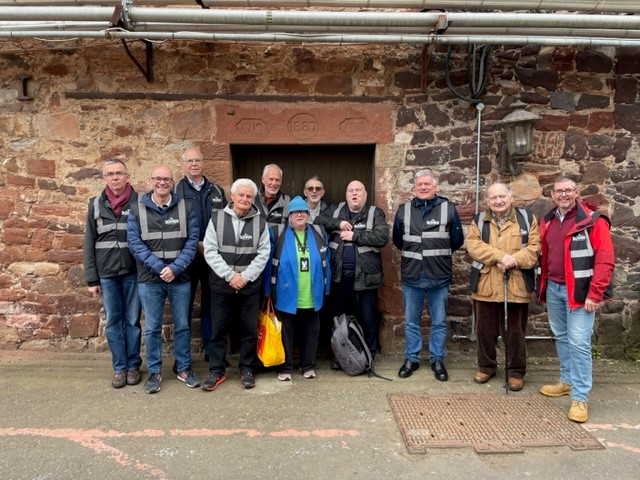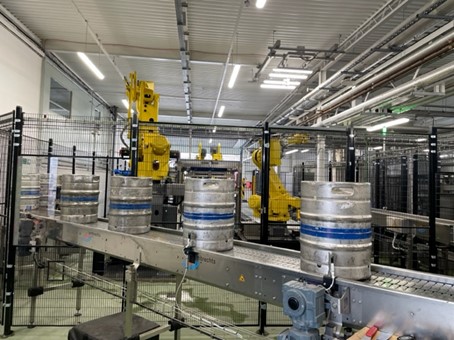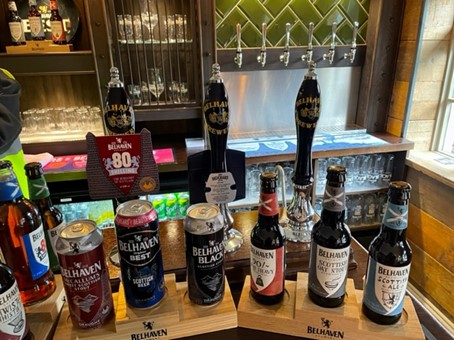 4. A Visit to the Scottish Brewing Archive & Discoveries Made Therein!
After I recently completed some major research into the beers of two 19 Th Century English breweries, I thought that a return visit to Glasgow  and further research into Scottish beer & brewing history was much overdue! Accordingly I made my appointment with the good folks at Thurso St to look at some Brewing Records I`d not looked at before; including the source for the subject of this brief epistle.
After a delayed 11:15AM arrival at Glasgow Central, I passed through the ornate splendour of the concourse to be greeted by a sunlit Gordon St , and after a brief stop for a restorative cuppa, I made my way over to Thurso St where I was met by a team member and shown to the study desk I'd be using for the nest few hours .
 After arrival, the question of which of the many volumes of cerevisiae lore I'd ordered should be first in the batting order then presented it's self; I decided to plump for the West Brewer , Elgin: Brewing Book 1847 Ref: EWB; (the only historic brewing record from a northern Scottish brewery in the archives).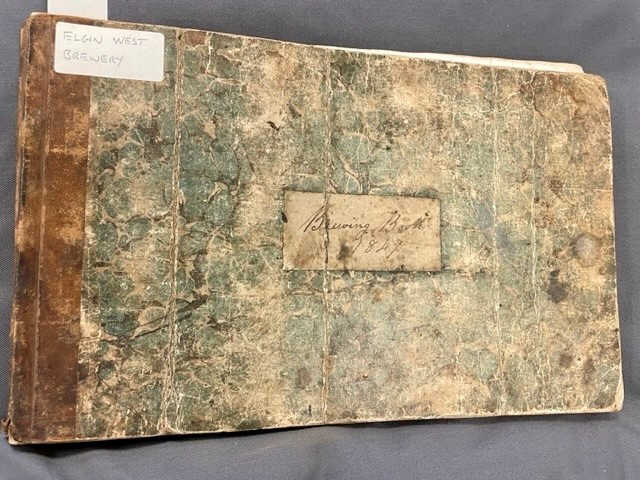 The Brewing Book 1847 is more of a brewer`s notebook with non brewing entries at the rear of the volume , such as Pro Forma Invoice(s), which allowed me to tentatively identify the West Brewery , Elgin as being operated by a concern styled " Geddes , Sutherland & Co " .
 After looking at the book for a while , I began to take note of the general layout and beers . However , towards the rear of the volume were a few brewings , together with brewing instructions for beers from a Edinburgh brewery I`d never heard of , with the first page of entries being headed " Brewings Copied from Whitson , Leith " .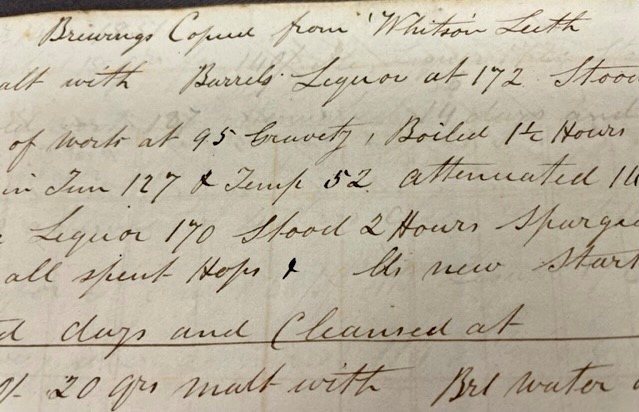 After organising my research from the most recent archive visit , I began the long and Tea Caddy emptying task of analysis and conversion which , at times felt like I was attempting a conversion from the corner flag ; With some beers Ex Whitson having specific brewing dates and others having their production parameters defined in the records .
I managed to compile a table of beers as brewed at Whitson`s which employed a fair whack of complicated mathematics , then began the task of tracing the brewery`s location in the Leith area .
I contacted fellow members of the SBAA for assistance , though while I initially drew a blank , I then remembered the National Library of Scotland had Trade & Post Office directories Online ; So, after looking at the Gray`s Directory covering 1837 , I was able to establish that a Robert Whitson , Brewer was listed at 11 St Anthony St in Leith 
( Possibly his private residence )  until the Post Office Directory for 1852 when the concern was entered as " Robert Whitson & Co , Yard Heads , Leith " ; The directory entries for the brewery continue until the 1856 – 1858 Post Office Directory .
The Beers of Robert Whitson & Co are quite a decent range ,One which I`d contend is fairly typical of a relatively small concern in Mid c.19 Th Scotland ;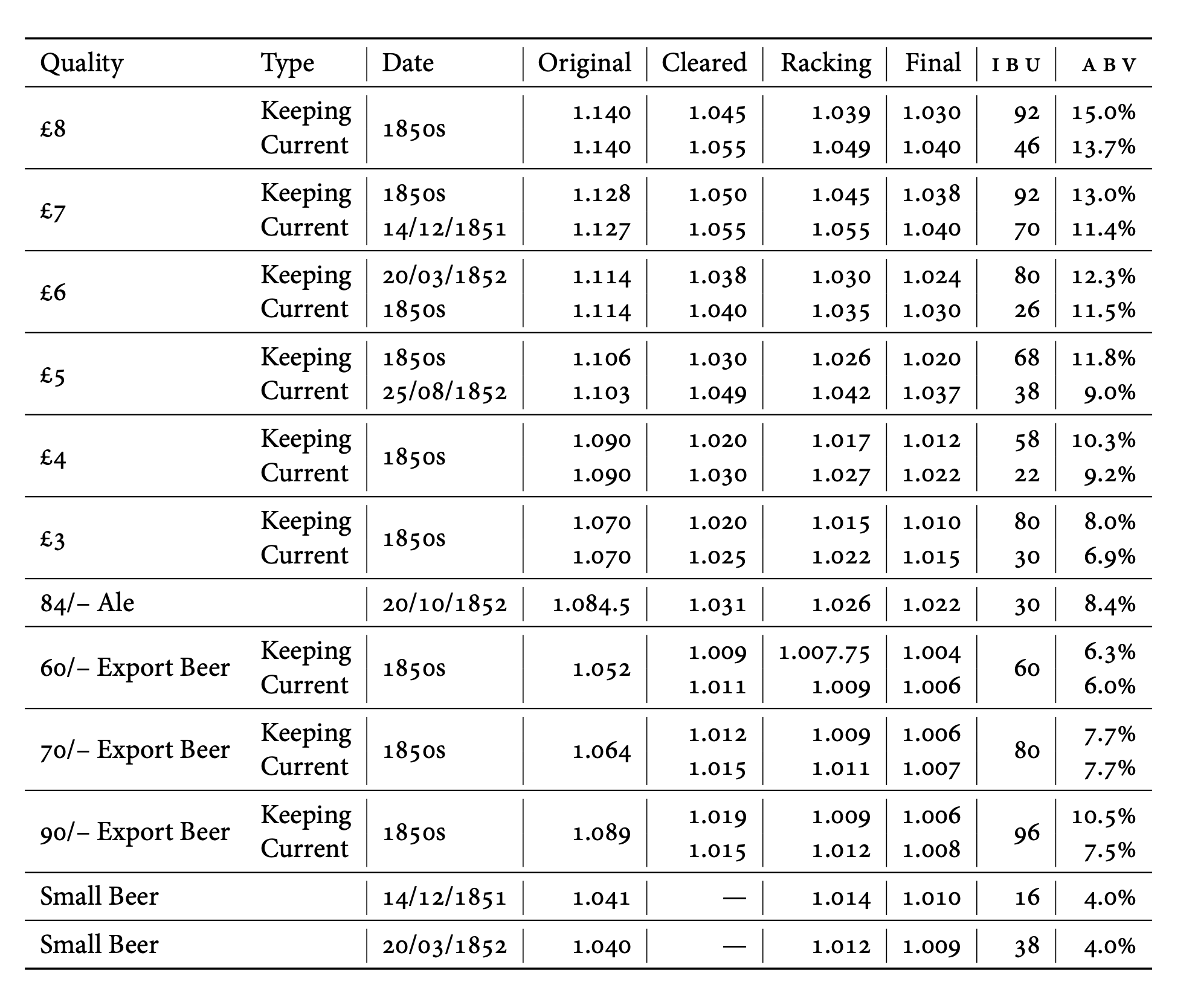 If any members know of other Production records from Scottish breweries & brewers from the period Pre 1925 in Private collections , and are able to arrange access , or send Photos ; Please get in touch , Id love to hear from you.   
Edd Mather contact at eddthebrew@gmail.com
5. Brewery Memorabilia Viewing
Alastair Carmichael invited SBAA members to his home in Dalkeith to view his brewing memorabilia and soft drinks collection. Much of Alastair's collection came from his stepfather Bob Feltham who was the Bottling Manager at Fountain Brewery and later the Group Packaging Manager of Scottish & Newcastle.
Alastair welcomed our motley crew in his garden who had erected a gazebo in advance in case it was raining on the day, and a good job too, as there were some heavy showers in the afternoon.
Alastair started the proceedings by providing everyone with either a can of beer or a soft drink before explaining his engineering business and his involvement with all the bottles and cans on display. Alastair went on tell some interesting and amusing stories relating to the bottles and cans.  We then split ourselves into two groups, with the first group enjoying a wonderful buffet in his home. The second group entered his garden shed named Benson to examine his brewing memorabilia collection at close hand.
Before departing Alastair presented everyone with a McEwan–Younger (MY) beer glass which is a collector's item. Despite the rain, all members enjoyed our afternoon in Dalkeith, in particular Alastair's knowledge of his collection, his humour, and his hospitality.
Thank You  Alastair, none better. John Martin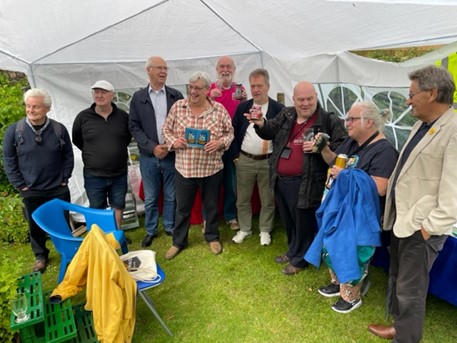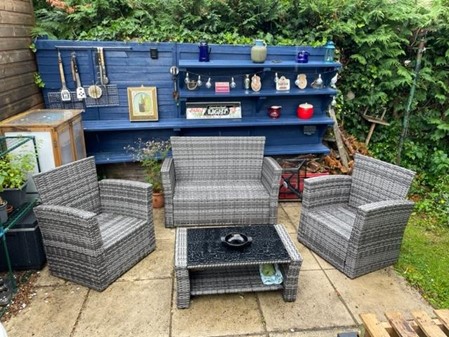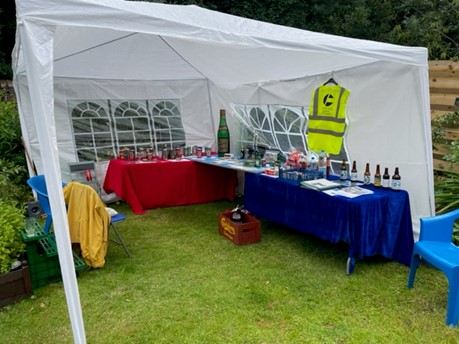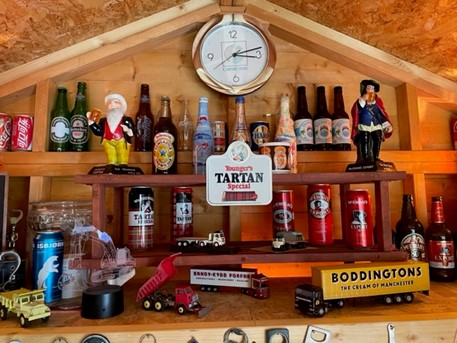 6. Request for yeast 1870 
Readers might recall the letters regarding the extent of John Jeffery's extensive export business in the mid 19th Century covered in the April Newsletter. John Reade has also uncovered this gem. 
"With respect to Jeffreys, when I was drafting the details for an article, I recalled a letter / memo that I saw and photographed, a few years ago, in Fife Councils Archives. It was from one of the Fife breweries to Jeffreys around this time but unfortunately, I could not remember which one. As you will see from the attached, I have now traced it and it was from R & J Mitchell's Cupar Brewery in 1870.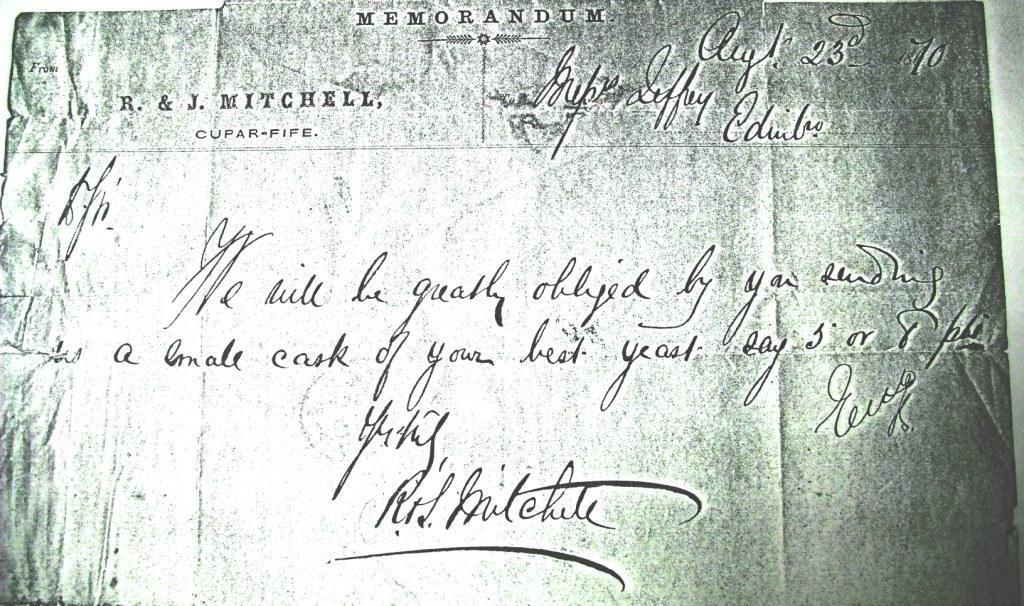 This may have been a commonplace practice at that time but for me it was a first & the only time that I've seen a written request from one brewer to another to purchase their yeast in cask! I can't make out though whether the size is for 5 or 8 gals or pints or even some other size / volume".
John , Thank you.
7. Last Runnings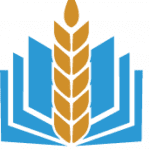 NEXT EVENT – Brewery walk Edinburgh Thursday 14Th Sept. 6pm
 A further walk covering Edinburgh's brewing heritage is planned for Thursday the 14th September, and this time the Southside area. We will meet outside the National Museum on Chamber Street at 6pm and will last about one hour and no doubt finish with a refreshment or two. 
If you wish to attend, please contact Ivor Reid our secretary at secretary@scottishbrewingarchive.co.uk  before 18th August.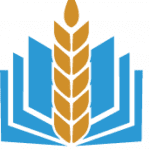 A warm welcome to new members Christopher Duffy and Mick Ord.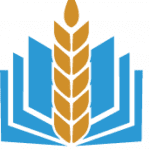 A reminder for the majority of established members, that you will receive an email in September asking you renew your membership before the end of the month. Like last year the system is provided by "MoJo" and will ask you to confirm your details and payment. The system has proved to be secure and successful please respond promptly.
Correspondence to the SBAA Secretary at secretary@scottishbrewingarchive.co.uk