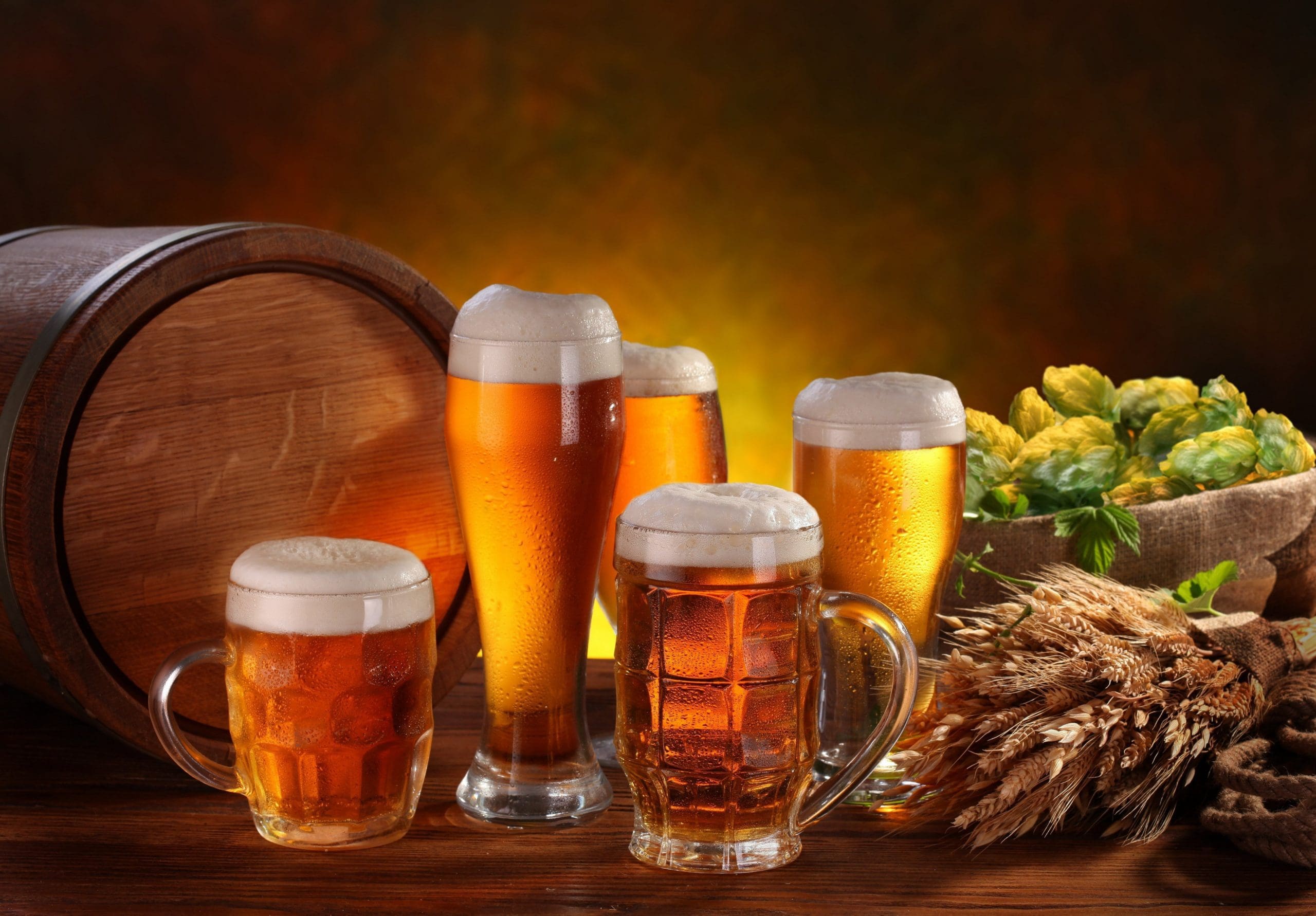 1. Interested in Scottish Brewing, then what about Scottish Real Ale?
If you are looking at the SBAA newsletter then the chances are you are interested in Scottish Breweries, but what about the products they produce, and in particular their real ales? You have probably heard of the CAMRA organisation (Campaign for Real Ale), but did you know that one of the objectives of CAMRA branches is to support local breweries?
One of the ways they do this is to promote their local branch brewery at their beer festivals. There are a number of Scottish CAMRA branches that have a beer festival in 2020, so if you get the opportunity why not head to one of the following festivals and try some of the local beers (and others from further afield)? If you do manage to head to a festival, you will find a wide variety of beers of different styles and tastes.
You will be able to get your choice of beer served in 1/3rd pints, allowing you to try a variety of beers responsibly (the beers can also be bought in ½ and full pints). Hopefully, you find it as enjoyable as the many other people that turn up to enjoy the real ales produced by Scottish (and beyond) breweries.
2. Tennent's Leading the Way
It's not everyday that a member of the SBAA appears on the famous BBC Breakfast time red sofa. But that's exactly what happened one morning in January. Tennent's Group Engineering Manager Martin Doogan was a guest in the studio to participate on an article covering the forthcoming United Nations Climate Change Conference, also known as COP26, scheduled for Glasgow later in 2020.
Although Tennent's are one of Scotland's oldest companies, and a passionate supporter of its brewing heritage, it is leading the way in the fight against climate change. 
Martin, during his TV interview, covered various initiatives including, Out of single use plastics by 2021, by switching from plastic-based secondary packaging such as hi-cone and shrink-film to recyclable and sustainable cardboard solutions.
A ground-breaking anaerobic digestion plant that will significantly reduce the impact of brewery waste water on the environment and provide the brewery with 5% of its energy need. 
A new system for collecting CO2 from fermentation saving the equivalent of 27000 flights from London to Glasgow per annum.  These and other initiatives represent a £14m investment at the historic Wellpark Brewery. 
For more information see   www.tennents.co.uk/sustainability
3. Bellfield Brewery
Bellfield Brewery in Abbeyhill, was the venue for the SBAA's busy AGM at the end of November. Set up in 2015, the brewery is the closest to the city centre, being only a stone's throw from the site where St Ann's Brewery once stood in Croft-an-Righ lane.
Bellfield is a dedicated gluten-free brewery – the first such in the UK. Founded by two coeliacs at time when tasty gluten-free beers were few and far between – the brewery's name comes from the Portobello area of Edinburgh where the Bellfield is a now grassy area where bells were once reputedly cast. Hence the bell on our logo!
Bellfield moved into its Abbeyhill premises in 2016 and launched its first two beers that year, following six months of rigorous R&D with Heriot-Watt's renowned Institute of Brewing and Distilling. The beers are brewed in small batches using traditional brewing techniques. All beer for keg and cask is brewed in Abbeyhill, while packaged beer (bottle & can) is contract brewed under the close supervision of Bellfield's Head of Brewing, in central Scotland.
In 2019, Bellfield installed a brew house and opened an adjacent taproom and beer garden. The taproom is now open every Friday, Saturday and Sunday and at other times by arrangement. Visitors can enjoy draught beer (keg and cask) fresh from the Brewhouse next door and tours and tastings take place most weekends.
Bellfield make four core beers (see below) and various one-off 'specials', in keg and cask.
Bellfield beers are winning awards in mainstream beer as well as gluten-free categories: most recently we were UK Winner in the 2019 World Beer Awards and Silver winner in the 2019 Scottish Beer Awards.
46 Stanley Place, Edinburgh, EH7 5TB
Beer

Tasting notes

Bohemian Pilsner

 

(4.5% ABV) is a classic Czech pilsner style, featuring

Saaz

, a noble hop, pale with a light body, background bitterness and gentle floral tones leading to a soft finish. UK Silver Winner, Speciality Beer – World Beer Awards; Gold winner at the Free From Awards 2017. 

Craft Lager

(5.2% ABV) Old and New World hops –

Ekuanot

and

Mandarina Bavaria

– combine to produce a light fruit and floral character. This modern interpretation of a classic lager is biscuity and quaffable. 

Session Ale

(3.8 ABV) Citrus tones from the hops

Centennial, Cascade

and

Citra

deliver flavour and aroma. The hop bitterness is balanced by fine malt character, making this beer very moreish. UK Winner, Speciality Beer – World Beer Awards 2019

Lawless Village IPA

 

(4.5% ABV) A copper coloured, aromatic beer brewed as a traditional American IPA made with pale and crystal malts and

Cascade

and

Centennial

American hops for a modern, citrusy finish. UK Winner, Speciality Beer – World Beer Awards; Bronze winner at the Free From Awards 2017
4. The "Father William" Lancaster bomber, No.9 Squadron RAF
Whilst I wait for my better half in the Stirling branch of a prominent supermarket chain, my attention was caught by the glossy cover of a special interest magazine.
It showed the so-called nose art painted on the forward fuselage of an RAF Lancaster bomber, with the familiar bearded Father William figure as used for many years by William Younger of Edinburgh, along with the associated slogan Getting Younger Every Day alongside.
A little research (isn't Google wonderful) unearthed some interesting information on this aircraft.
It was Lancaster LM220, with squadron identification WS-Y, based at RAF Bardney in Lincolnshire, serving wth No.9 Squadron RAF, one of only two formations whose aircraft were specially adapted to carry the 12,000 lbs "Tallboy" bombs designed by Barnes Wallis – the other unit was No. 617 Squadron – the famous Dam Busters.
LM220 is generally credited with having dropped the bomb that finally sank the German battleship "Tirpitz" anchored in Tromso fjord, on 12th November 1944, although 617 Squadron's felt that one of their Lancasters had an equal claim. 
The aircraft flew 39 bombing missions during the war and despite some damage in March 1945 it survived until the cessation of hostilities in May of that year.
The pilot, Flight Lieutenant Douglas Tweedle, was later awarded the Distinguished Flying Cross for the "Tirpitz" action, as were eight other members of the squadron, with a Distinguished Flying Medal going to a Flight Sergeant.
The attack on 12th November 1944 was the third occasion on which Nos. 9 and 617 Squadrons had attacked the "Tirpitz" in unison with their huge bombs. Unknown to the Allies, the ship had been rendered unseaworthy due to damage sustained during the previous raid and subsequently the Germans had decided not to attempt major repairs to make her operational again.
According to one of Tweedle family interviewed many years later, Younger's products were the favourite beers of the aircrew, and they "liberated" a tray from a local pub to help a member of the ground crew produce the artwork.
Michael Clark
Footnote:
Interesting to note that Marstons have produced a bottled beer called – Lancaster Bomber that pays tribute to the Avro Lancaster plane. It is a classic ale, chestnut in colour and an ABV of 4.4%.  
5. David Smeaton – Obituary
It is with regret to announce that David Smeaton a former treasurer of the Scottish Brewing Archive (SBA) for 12 years has died recently at the age of 88.
David was the Financial Accountant with Scottish & Newcastle (S&N) for many years and worked closely with the S&N Finance Director, Halbert Renwick and worked long hours to meet new detailed legislation especially from the Price Commission and the Board of Trade.
David was highly thought of in the office and very popular with all staff and directors, with his knowledge and unique sense of humour. When David turned 50 years of age the staff of his department organised a special party for him and David was quite touched by this gesture. He was a great organiser and made arrangements for a staff Christmas party each year with everyone looking forward to the event.
As a result of David's stature with S&N one of the main board directors Henry Fairweather asked David to represent S&N on the SBA committee and was appointed treasurer. This was at a time when seeking support from the major brewers was sometimes difficult. It was also during this period when there was a need to re-evaluate the purpose of the archive and to navigate its existence. David's council and practical knowledge greatly contributed to the decision-making of the committee.
David was very interested in the heritage of both S&N and the SBA and amongst his other interests was attending the theatre and was a season ticket holder and regular attender to the Kings, Lyceum and the Brunton. David was a 'Friend of the Brunton' and was their treasurer for some time.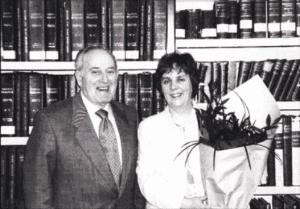 Our thoughts are with David's relatives at this time.
Thanks to Les Hutcheon and Bill Brown for providing the information for this obituary.
John Martin
The picture is David presenting flowers and gratitude to Alma Topen – Scottish Brewing Archivist at Glasgow University on her leaving day in 2002.