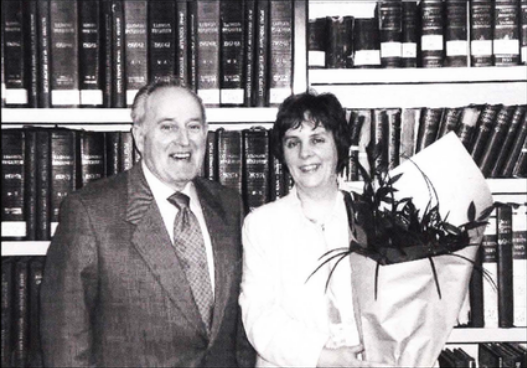 David Smeaton – Obituary
It is with regret to announce that David Smeaton a former treasurer of the Scottish Brewing Archive (SBA) for 12 years has died recently at the age of 88.
David was the Financial Accountant with Scottish & Newcastle (S&N) for many years and worked closely with the S&N Finance Director, Halbert Renwick and worked long hours to meet new detailed legislation especially from the Price Commission and the Board of Trade.
David was highly thought of in the office and very popular with all staff and directors, with his knowledge and unique sense of humour. When David turned 50 years of age the staff of his department organised a special party for him and David was quite touched by this gesture. He was a great organiser and made arrangements for a staff Christmas party each year with everyone looking forward to the event.
As a result of David's stature with S&N one of the main board directors Henry Fairweather asked David to represent S&N on the SBA committee and was appointed treasurer. This was at a time when seeking support from the major brewers was sometimes difficult. It was also during this period when there was a need to re-evaluate the purpose of the archive and to navigate its existence. David's council and practical knowledge greatly contributed to the decision-making of the committee.
David was very interested in the heritage of both S&N and the SBA and amongst his other interests was attending the theatre and was a season ticket holder and regular attender to the Kings, Lyceum and the Brunton. David was a 'Friend of the Brunton' and was their treasurer for some time.
Our thoughts are with David's relatives at this time.
Thanks to Les Hutcheon and Bill Brown for providing the information for this obituary.
John Martin
The picture is David presenting flowers and gratitude to Alma Topen – Scottish Brewing Archivist at Glasgow University on her leaving day in 2002.